I received my B.Tech degree in Electrical and Electronics Engineering from National Institute of Technology Puducherry. I'm conferred with the prestigious Prime Minister's Research Fellowship to pursue PhD in the Interdisciplinary areas of Science and Engineering at the School of Energy Science and Engineering, IIT Guwahati. I joined IIT Guwahati in July 2018 under the supervision of Prof. Sisir Kumar Nayak. I have developed an EMI-free non-intrusive and non-destructive technique for condition assessment of transformer liquid insulation using S-Band horn antenna that can predict the moisture and acid content with a maximum error of 10%. Alongside, I'm working on the occurrence of partial discharges in various liquid dielectrics when subjected to electrical stress.
​
My research interests are:
Alternate liquid dielectrics for power application

Transformer condition monitoring

Streamers and space charge in liquid dielectrics

Insulation degradation

High Voltage Engineering
​
​
I wish to dish out my technical knowledge to the State Electricity Boards, Companies working in the field of transformers, and students from technical various technical institutes (under discretion) and urge the companies facing relevant problems to reach out to us.
B.Tech in EEE
Department of Electrical and Electronics Engineering
Technical Society Membership
​
IEEE Student Member (since 2019)

ASTM Student Member (Since 2021)

I-STEM Ambassador (Since 2022)

I-STEM Expert (Since 2022)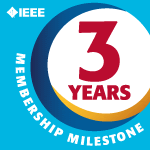 Technical Skills
​
MATLAB

Anritsu ShockLine

Multisim

MS Office

COMSOL Multiphysics

Latex

LT Spice

Simulink

Google Workspace

Endnote

Mendeley
Soft Skills
​
Collaboration skills

Leadership skills

Communication skills

Networking skills

Teamwork